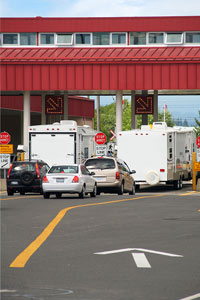 US Border Crossing
Traveling is a wonderful experience and everyone experiences a feeling of wanderlust every once in a while, but it is important to ensure that your travel arrangements are in order. This guide should help you arrange your travel plans to the United States whether you are a citizen of another country or a permanent resident of the United States who would like to come back to the US.
Are you a Permanent Resident of the United States?
Permanent Residents who wish to travel outside of the United States have to follow certain procedures in order to ensure that they are not viewed as abandoning their residency status.
Travel documents are particularly important if you are using air travel, but are generally recommended for all permanent residents traveling abroad. There are three types:
Advanced Parole is usually issued to immigrants whose adjustment of status to permanent resident is pending.
Refugees and asylees are granted their own special form of advanced parole if they wish to travel outside of the United States and intend to return.
Permanent Residents who wish to leave the United States for a year or more before returning should apply for a re-entry permit.
Any lawful permanent resident in good standing can come back into the United States by land or sea with nothing more than their permanent resident card, also known as the green card. However, if you intend to be outside of the United States for longer than a year you should also secure a re-entry permit before you leave.
Do you live in another country?
People who don't live in the United States as a permanent resident or citizen have special rules that they must follow to enter the country. There are even more special conditions depending upon which country you are from. Read on to find out about special border crossing programs and exceptions.
Travelling Programs that you should be aware of:
Entering the United States as a non-citizen
Citizens and residents of countries other than the United States must present certain documents to border officials upon arriving at the border. People who have traveled abroad before should be familiar with these requirements, but as a refresher we have all you need right here.
Required Documents and Visas
All foreign residents coming to the United States must have a valid visa and generally a visa that allows them to be inspected by Customs and Border Protection. Depending on which country you are from, you may not need a visa to travel to the United States. Learn more about the Visa Waiver Programhere.
The US-VISIT program is designed to identify you in the United States based on your biometric information. It also assists in recovering your visa if you happen to lose the paperwork.
E-Passports are required of all travelers to the United States as of 2006. E-Passports contain a small microchip in the paper binding of the passport that holds all of your biometric information.
Countries that are particularly close to the United States have different procedures for border crossing because they are part of the WHTI (Western Hemisphere Travel Initiative).
Mexican nationals are generally required to show their passports and valid visas when coming into the United States, but there are some instances where they may be eligible for US-VISIT.
Canadians only need one document from the list of WHTI documents to cross any of the many borders between Canada and the United States.
Bermudian nationals only need to present one of the WHTI approved documents.
Dos and Don'ts of Traveling in the United States
Do check the TSA's list of things you shouldn't bring on a plane.
Don't travel to the United States without your passport.
Do remember to secure your return trip in advance.
Don't try to immigrate on a visitor visa.
Do enjoy your stay!